"Mantrid" is the 1 episode of 2 season of the TV series "Lexx".

The episode aired on Dec 11, 1998 on the TV channel Space The Imagination Station in Canada.
The script for the episode was written by Paul Donovan. The director of the episode were Christoph Schrewe.

Summary
In this first episode, the crew encounters Mantrid, the former Bio-Vizier for His Divine Shadow. Mantrid claims he is able to provide the proto-blood necessary for Kai's continued existence; but Mantrid, of course, has an ulterior motive.
Plot
Kai, possessed by His Divine Shadow, convinces the crew that he is low on protoblood and leads the crew back to the Light Zone to retrieve a dormant offspring insect larvae of the Giga Shadow from the remains of the Cluster. The crew then goes to meet Mantrid, former Supreme Bio-Vizier for The Divine Order, under the pretense of trying to convince him to extract protoblood from the insect larvae. In actuality, His Divine Shadow needs Mantrid's help to revive the larvae so that His Divine Shadow can be transferred into it.
The aging Mantrid sees the value of the larvae and plans to use the insect's transference organ to transfer himself into a new machine body, which he has been constructing for a long time. Mantrid begins reviving the insect and dissecting it so that he can harvest its transference organ. However, once it is apparent that Mantrid has his own agenda, the possessed Kai attempts to kill Mantrid by shattering the jar containing his fluid-suspended organs and finishes transferring the essence of His Divine Shadow into the larvae.
Mantrid's besotted apprentice Viggo gathers up the remains of Mantrid's dying body and uses the transference organ to transfer Mantrid's essence from his dying body to the machine body. The crew flees to the Lexx and destroys the planet in an attempt to kill the insect and Mantrid, but Mantrid's machine escapes.
Quotes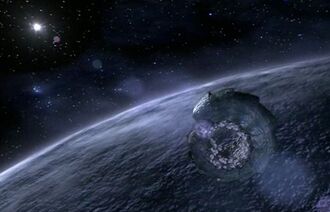 Characters
Production
See also
Gallery
Add images and descriptions: