Welcome to the LEXX!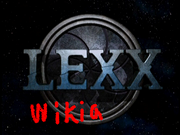 This is a wiki about the Canadian-German Sci-fi series Lexx, also known as "Tales from a Parallel Universe". Here you can browse various articles about characters, episodes, terminology and the Timeline Universe of Lexx.
We have 325 articles since May 27, 2009. Lexx Wiki is in need of people who help us to do this wiki, as well as anyone willing contribute information. Please share link to the Lexx Wiki and help to keep the Lexx great and free.
What's new
Monday, May 27, 2019. — 10 Years Anniversary of Lexxicon!
Saturday, February 23, 2019 — Added all episode transcripts.
Saturday, June 25, 2011 — We have now reached 200 articles!
Wednesday, July 14, 2010 — We have now reached 160 articles, with all episodes and most major characters represented!
Wednesday, May 27, 2009 — 12 Articles finished! Lexx Wikia is up and running.
Contribute to this wiki
Lexx in Twitter
Community content is available under
CC-BY-SA
unless otherwise noted.